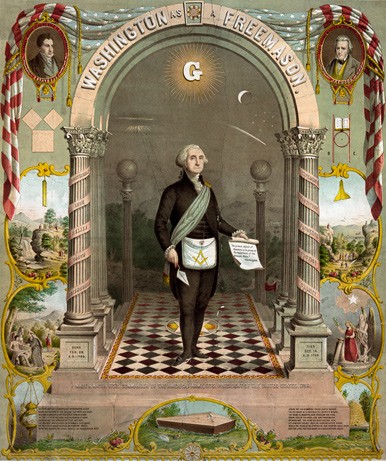 The mission of the Nippon Lodge No. 9 Historical Committee is to introduce visitors to some of the rich history behind Nippon Lodge No. 9 located in Sasebo, Japan.We are currently under the auspices of the Most Worshipful Grand Lodge of Japan, F. & A.M. The Most Worshipful Grand Lodge of Tokyo being instituted on May 1, 1957. When the Lodge was first formed we came under the Grand Lodge of the Philippines.
The first stated meeting of Nippon Lodge U.D.(Under Dispensation) Lodge was opened in due form with Bro. W.Y. Howard acting as the Worshipful Master on 2 June 1953. The Tyler's Register revealed that thirty three Brethren were present at this very first meeting.
It would not be until May 4, 1954 when this Masonic Lodge would open under the Name of Nippon Lodge No. 138. All known records indicate that this Lodge would operate under the name of Nippon Lodge No. 138 until December of 1956. The first available records showing the name Nippon Lodge No. 9 indicates that a meeting was convened on 7 May 1957 as Nippon Lodge No 9.
The original U.D. Lodge was convening their meetings in a building just outside the main gate of Commander Fleet Activities, Sasebo. This building housed the Bank of America as well as other offices.
Sometime in the early 1960's, Nippon Lodge No. 9 began meeting in a Quonset building located next to the CPO Annex located just outside the Main Gate of Commander Fleet Activities Sasebo. The Lodge would continue holding meetings in this building until 1990, at which time the building was to be torn down to make room for a new Military Police Headquarters. At that time the members of Nippon Lodge No.9 relocated to a building in town located in Hino-Cho. They would remain there until 2006 at which time they would move into a freshly renovated new Lodge, located in Tanigo-cho which is now the current location of Nippon Lodge No. 9.
Although Nippon Lodge No. 9 has been required to relocate several times, through the history of the Lodge we have retained the Charter and maintained an active status since the Lodge's inception in 1953.
At some points in our history our membership has waned and holding meetings was at times difficult. However, with the help of all the bretheren we are becoming an active force in our community through many charitable activities. In the comming months more information of the history of Nippon Lodge No. 9 will be published for all to learn and appreciate. May the Great Architect of the Universe continue to bless us and assist us in seeking more light.